What We Do
HIGH QUALITY SMALL-FORMAT to LARGE-FORMAT PRINTING
– ARCHITECTURAL, PHOTOS, ART, DOCUMENTS, PR, SIGNS –
DESIGN, PHOTOGRAPHY and ART are OUR PASSION!
We SCAN, LAMINATE, MOUNT and MORE.


Professional. Efficient. Courteous.

Posters, Brochures, Documents
Canvas Giclée Gallery Wraps
Personalized Greeting Cards
Custom Projects & Solutions
Here's a quick Map of where we are – 307 E. Colorado Ave., Telluride.
See the contact page for more information!
Happy Print is here to assist people in communicating.
Our work is about human relations and communications, and yes, getting work done …in a timely manner.
Printing your ideas to help promote, manifest and to enjoy them!

"It may just be, those who dream the most, do the most." — Unknown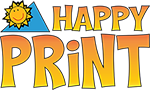 DO YOU HAVE A PROJECT WE CAN HELP WITH,
PHOTOS TO PRINT, OR JUST NEED SOME CREATIVE GUIDANCE?